We recently illustrated how a couple of minor adjustments can transform a kitchen. Now let's see what happens when we give a small half bathroom a similar treatment. Using rendering software, we digitally swapped in different vanities, rugs and wall colors. Those of you who think you need to completely renovate a bathroom to alter its look may discover that a similar tweaking could give you the result you desire.
The original bathroom is nicely light and bright and has solid neutral elements in place, such as handsome hex floor tiles, a goes-with-anything black-frame mirror and a simple but elegant frosted globe pendant.
But I'm always curious how homeowners can transform a space with color and a few other small adjustments — changes that don't need to break the bank to implement. So let's see what happens when we play around with this bathroom design a bit.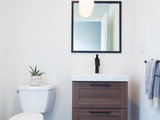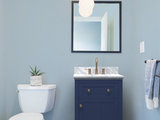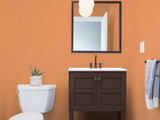 1. Cool Blues
This first rendering has a cool, spa-like blue palette. Both the wall and vanity are blues that have a good bit of gray in them, which gives them a soft, neutral quality. The rug picks up on the blues, grays, blacks and whites in the room. This soothing setup is perfect if you live in region with a hot climate, because the cool colors will give you a chill vibe.
Read More